Flying Circle Receives A+ SAGE Rating Award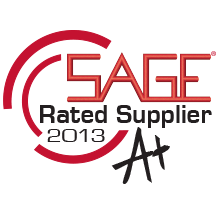 Boerne, TX, November 26, 2013 - Flying Circle Bags is pleased to announce that the company has been selected to receive a 2013 SAGE Rating Award for having an A+ rating among SAGE distributors for providing excellent service and products this year.
SAGE Online is the leading product research and order management service in the promotional products industry, with thousands of distributors using it on a daily basis to perform product and supplier research. SAGE Online allows distributors to rate suppliers on a variety of criteria. Distributors can also use SAGE Mobile, the industry's most advanced mobile research service, to view and rate suppliers.