Lock & Load with New Firearm & Concealed Carry Cases from Flying Circle Bags!
Boerne, TX, May 21, 2014 – Flying Circle Bags hits the mark with its new line of firearm cases designed for the gamut of gun enthusiasts, from recreational sportsmen to professional marksmen.
The company aims to please with its Scoped Carbine Case, Scoped Rifle Case, Small Tactical Pistol Rug, Large Tactical Pistol Rug, and Concealed Carry Waist Pack. Hunters, law enforcement officers, and weekend shooters may want to stockpile these cases in assorted colors, such as black, coyote brown, foliage, and MultiCam®. Owners of multiple firearms will appreciate the different sizes available and will also be impressed with the versatility these unique cases offer.
The Scoped Carbine Case accommodates most scoped carbines up to 34" in length and can store a variety of magazines in its pockets while providing ample storage space for accessories like optics, cleaning and first aid kits, binoculars, bipods, hearing protection, and safety glasses. A large webbing loop on both ends allows for hanging storage muzzle up or muzzle down.
The Scoped Rifle Case fits most scoped rifles up to 47" in length and can hold a good chunk of gear as well.
Most compact/sub-compact pistols and full sized revolvers are covered with the Small and Large Pistol Rugs. The small rug accommodates handguns up to 8.5" in length, and the large rug can fit guns up to 12.75" in length. Each has a side zippered pocket that will hold a couple extra magazines, ammo, or mobile phone.
The Concealed Carry Waist Pack features an adjustable belt that fits up to a 45" waist with a side release buckle concealed for security. It has a padded back with mesh vent fabric for comfort. Keys, wallet, and mobile phone can easily be tucked into the outside zipper pocket. The main compartment also has a zipper pocket with key ring clip and includes a removable ambidextrous compact/sub-compact universal holster that can be positioned in any direction for easy draw.
The lightweight semi-rigid cases are constructed with durable water resistant polyester fabric or MultiCam® ripstop nylon with PVC backing, and are the perfect balance between the traditional choices of hard and soft cases. They offer superior protection and convenience when shooting at the range, big game hunting, or in the line of duty. The unique shape cradles the firearm while extra thick padding cushions and protects the weapon. Security is paramount to any gun owner, and the carbine and rifle cases have locking zippers on the weapon compartments, while the pistol rugs have a D-ring to safely secure the zipper with a cable tie or lock. MOLLE webbing is a distinctive feature original to this line and allows for any MOLLE compatible pouches and gear to be attached, as well as the rugs to be fastened to belts. Each product features tactile zipper pulls to allow for easy identification by feel between weapon and accessory pockets.
The carbine and rifle cases boast another exclusive feature – a four-point Vehicle Attachment System (VAS) with adjustable webbing straps and side release buckles to safely secure the cases to a SUV cargo rack or ATV roll cage for easy access when traveling. Both cases also have an adjustable and detachable sling style shoulder strap and grab handles on both ends.
Company president Jimmy Chittim said, "When Junior and I go zombie hunting – which usually involves vaporizing cactus and turning small rocks into smaller rocks – we like to take a variety of calibers and a bunch of ammo. With these cases, I can fill up the bed of the truck with gear and not worry about scratches and dings. I can hang the guns in their cases all over the Ranger and pull them out quickly to engage a variety of enemy targets. Whether it is a deadly lump of limestone quietly planning its attack, or one of those killer prickly pears that stumbles into shotgun range, we are able to dispatch them all efficiently and with extreme prejudice. These cases are pretty cool, and I'm sure you'll agree."
If you get caught in crossfire, there's no need to worry. Flying Circle Bags stands by the quality of its workmanship and materials. The full range of Flying Circle Firearm & Concealed Carry Cases are covered by a lifetime product guarantee.
Look for this new caliber of cases online in the Flying Circle Bags web store at www.flyingcirclebags.com, and see the gun cases in action on YouTube at www.youtube.com/flyingcirclebags.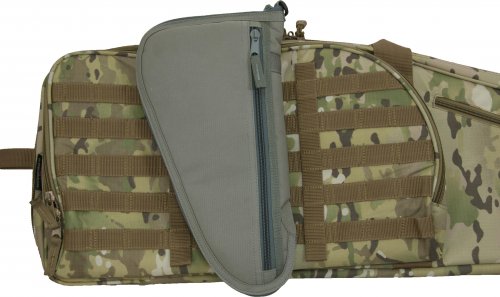 100XM Large Tactical Pistol Rug with MOLLE attached to 105XM Scoped Carbine Case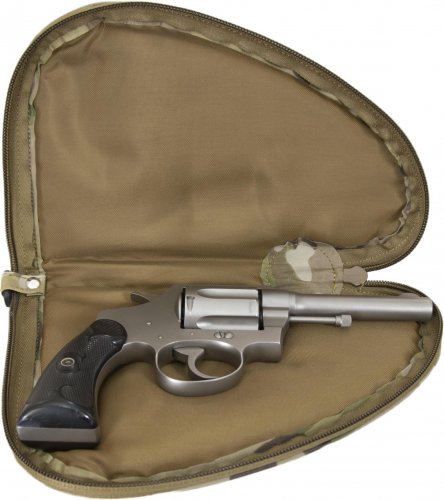 99XM Small Tactical Pistol Rug

101XM Scoped Rifle Case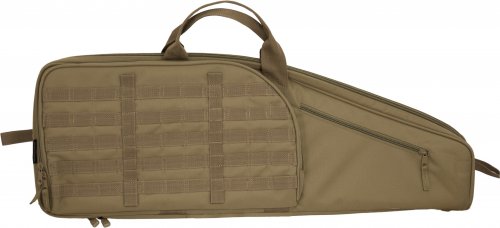 105XM Scoped Carbine Case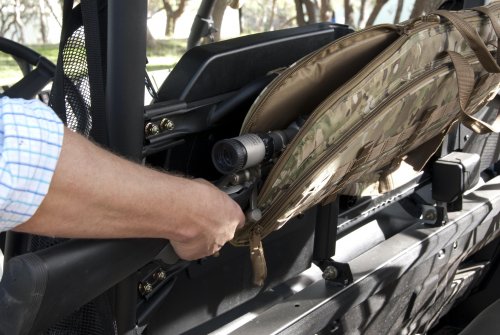 101XM Scoped Rifle Case VAS Mounted
703XM Concealed Carry Waist Pack
About Flying Circle Bags
Born on a ranch in Boerne, Texas, Flying Circle Bags has been creating and producing field, tactical, and travel bags for the U.S. Military for more than 25 years. The company has achieved a reputation for quality and durability in the products they produce, including military specialty bags, Tactical iPad® Covers, business backpacks, laptop briefcases, duffels, toiletry bags, and travel kits.
On Duty. Off Duty. We've Got You Covered® at Flying Circle Bags.
®iPad is the registered trademark of Apple Inc.
®MultiCam is a registered trademark of Crye Precision, LLC