Flying Circle Hydration Backpacks Now Include Hydrapak® Reservoirs
Boerne, TX, November 19, 2014 – Shoppers interested in a complete hydration backpack system need to look no further than Flying Circle Bags. The company now offers a complete line of integrated hydration backpacks with the Hydrapak® 3 liter reservoir system.
Flying Circle currently has four styles in its hydration line, including the popular Stryker Backpack and Large Field Pack, and the new Presidio Pack and Load Bearing Hydration Pack.
As the top global hydration brand, Hydrapak® leads the forefront of innovation by developing systems that dynamically change the way people drink, store, and carry water. "Hydrapak® is pleased that Flying Circle has joined our contingency of tactical nylon partners that provide our men and women in uniform with a mil spec hydration system. We are pleased to support their growing hydration category." said Hydrapak® representative, Tracey Brown.
The 3 liter Hydrapak® reservoir is the largest available in Hydrapak's 1st Wave™ line of Military Grade Reservoirs. Its durability and versatility in the field make it the perfect partner to Flying Circle's rugged military packs. Constructed with TPU (thermoplastic polyurethane) for superior strength and flexibility, the naturally anti-fungal reservoir is reversible for easy cleaning and drying. The Hydrafusion™ insulated tube is designed to protect against snags and rips, and the Surge™ Bite Valve offers a high flow rate with twist locking on/off mechanism and dust cover. The Plug-N-Play™ quick disconnect is a push-button tube removal system that keeps the reservoir sealed when the tube is removed for easy filling, modularity, and system cleaning. Additionally, the Plug-N-Play™ links with in-line water filtration options. There is also a patented leak proof wide slider opening for quick filling. The reservoir is free of BPA and PVC, is dishwasher safe, and comes with a no-leak product warranty.
Flying Circle Bags president Jimmy Chittim said, "About 3,000 years ago, Lao Tzu observed that "Nothing is softer or more flexible than water, yet nothing can resist it." Wise words from a guy who didn't like to go thirsty. Along with food and shelter, water is a multipurpose must-have addition to the adventure kit. Whether you are headed out for a week in the bush or on the way to the library, a sip of water can restore energy or help you cook a meal. The Hydrapak® system is military tough and easy to use. Mr. Tzu would have been very impressed with this system and I am excited to have Hydrapak® join our team."
Look for Flying Circle's complete line of hydration packs online at Hydration® Backpacks.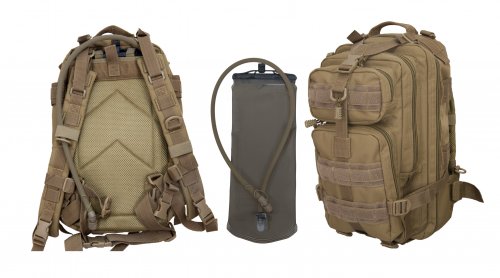 About Flying Circle Bags
Born on a ranch in Boerne, Texas, Flying Circle Bags has been designing and manufacturing field, tactical, and travel bags for the U.S. Military for more than 25 years. The company has achieved a reputation for quality and durability in the products they produce, including military specialty bags, Tactical iPad® Covers, business backpacks, laptop briefcases, duffels, toiletry bags, and travel kits.
On Duty. Off Duty. We've Got You Covered® at Flying Circle Bags.
®iPad is the registered trademark of Apple Inc.