The Tactical iPad® Air Cover from Flying Circle Bags – Performance Engineered for iPad® Air!
Boerne, TX, July 8, 2014 – Flying Circle Gear releases a new Tactical iPad® Cover for iPad® Air. The Tactical iPad® Air Cover follows the company's successful launch of the Tactical iPad® Cover in 2012, and the Tactical iPad® Mini Cover in 2013. The original Tactical iPad® Cover was the first of its kind designed specifically for military use.
The Tactical iPad® Air Cover boasts all the same features as its two predecessors, and is sure to stand out on and off the field with its sturdy user-friendly design. This rough and tough cover is constructed with durable 1000D water-resistant INVISTA CORDURA® Classic fabric and is available in Black or Coyote Brown.
Flying Circle's iPad® covers are known for their versatility, and The Tactical iPad® Air Cover is no exception. It can be adjusted to securely hold an iPad® Air in almost any position on a variety of surfaces: one-handed, using the reinforced elastic straps; hands-free, using the built-in adjustable leg strap; and on a solid surface, using the kick stand or main closure strap. The removable viewing hood serves a dual purpose: reducing visual signature during no-light or low-light conditions and reducing glare when working in bright sunlight. Users may also find the viewing hood suitable for other purposes, such as black camouflage when hiding from the enemy in the dark and discreet napping in public spaces.
The Tactical iPad® Air Cover comes with a built-in micro-fiber cleaning cloth and a flap to cover the camera. Zippered pockets combined with pen and stylus slots provide convenient storage for compact mission-critical items.
Customer Jordan F. said, "Saying this is exactly like my old iPad tactical case is spot on and high praise. I waited for this case after getting the iPad Air, and it is like having a brand new iPad. It has the same great features of the original case, but the iPad actually fits better in the case and aligns better with the holes for the home button and camera. There are the same great add-ons that can be removed if they are not needed (I'm looking at you, black-out hood). It's easy and light to hold, and made with quality construction and materials. The main feature to highlight over any other iPad case I have tried is that the hook and loop on the cover flap and the back of the case make it so that when the case is open, the cover flap will stay in place. This is unique and I have no idea why other case manufacturers have not fixed this annoying oversight."
The Tactical iPad® Air Cover can be found on the Flying Circle Bags Online Store at www.flyingcirclegear.com.
See the Tactical iPad® Cover in action on YouTube.
Flying Circle Gear stands by the quality of its workmanship and materials. The full range of Flying Circle Tactical iPad® Covers are covered by a lifetime product guarantee.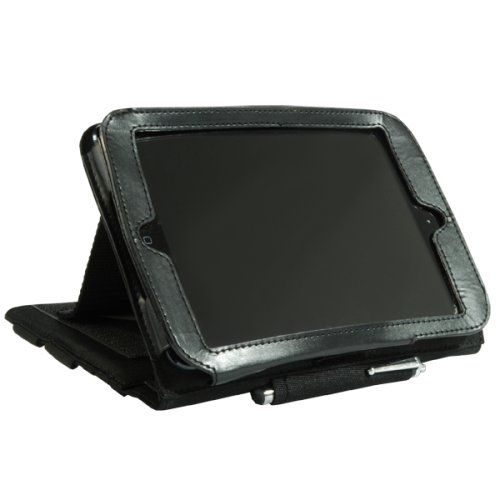 About Flying Circle Bags
Born on a ranch in Boerne, Texas, Flying Circle Bags has been designing and manufacturing field, tactical, and travel bags for the U.S. Military for more than 25 years. The company has achieved a reputation for quality and durability in the products they produce, including military specialty bags, Tactical iPad® Covers, business backpacks, laptop briefcases, duffels, toiletry bags, and travel kits.
On Duty. Off Duty. We've Got You Covered® at Flying Circle Bags.
®iPad is the registered trademark of Apple Inc.
®Cordura is a registered trademark of INVISTA for durable fabric.