Equip your iPad® for battle!
Boerne, Texas, February 13, 2012 - Flying Circle Bags, a key supplier of field, tactical and travel bags to the US Military, introduces the Tactical iPad® Cover.
The multi-functional Tactical iPad® Cover is a force multiplier for the iPad® 1 and 2. Sturdy construction and 1000D NIR-compliant INVISTA CORDURA® Classic fabric make this case a brute when the going gets tough yet civilized when it needs to impress.
The versatile Tactical iPad® Cover can be optimized to securely hold an iPad® in almost any position on a variety of surfaces: one-handed, using the reinforced elastic straps; hands-free using the built-in adjustable leg strap; or on a solid surface using the kick stand or main closure strap. The removable viewing hood serves a dual purpose, reducing visual signature during no-light or low-light conditions and reducing glare when working in bright sunlight.
The Tactical iPad® Cover protects the iPad® from the elements with a built-in micro-fiber cleaning cloth, a flap to cover the iPad® camera, and pockets for all of your essentials.
Company president Jimmy Chittim said, "From the beginning, we decided that this was going to be a performance engineered iPad® cover. I'm looking forward to seeing all the different ways our customers use our Tactical Cover in the field."
Look for this innovative case at the Army and Air Force Exchange™ stores. It is also available on the Flying Circle On-Line Store at https://www.flyingcirclegear.com
See the Tactical iPad® Cover in action on YouTube!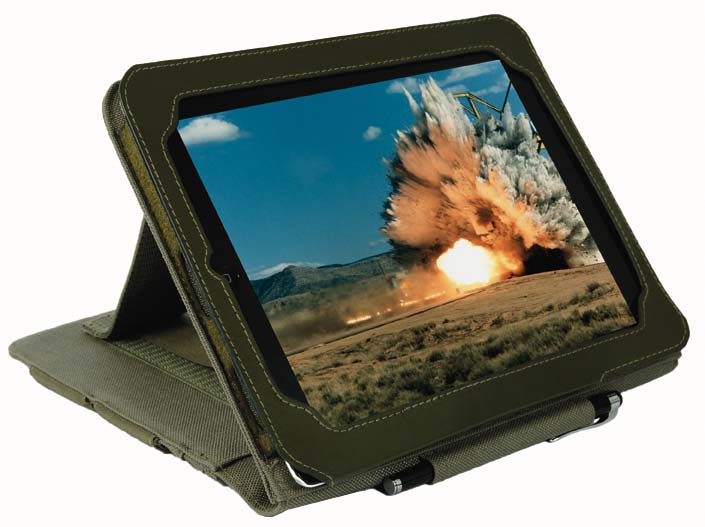 Tactical iPad® Cover
Born on a ranch in Boerne Texas, Flying Circle Bags has been creating and producing field, tactical and travel bags for the US Military for over 20 years. The company has achieved a reputation for quality and durability in the products they produce: 213 Stryker backpacks to field bags and flyer's kit bags, down to a simple travel kit.
On duty or off duty we've got you covered at Flying Circle Bags.
®iPad is the registered trademark of Apple Inc.
®Cordura is a registered trademark of INVISTA for durable fabric.